PVC PE Plastic Flakes Milling Machine is mainly designed for grinding PVC and PE. The plastic Pulverizer uses turbine blades. The static and rotary knives are adjustable, and a single grinder can obtain PVC powder of different particle sizes. High output, low energy consumption and long life have attracted many customers around the world. PVC plastic for PVC pipes/profiles/flex sheets/bottles/cards from low to medium hardness PVC.
The output of our pulverizer can reach 100-500kg/h (15-60 mesh).
Plastic pulverizer is mainly composed of electric motor, disc blade, feeding fan, vibrating screen, dust removal system, etc.
According to the needs of customers, some accessories can be selected, such as converter, vacuum feeder, screw feeder, magnetic mesh, metal separator, chiller, pulse dust collector, weighing and packaging machine, etc.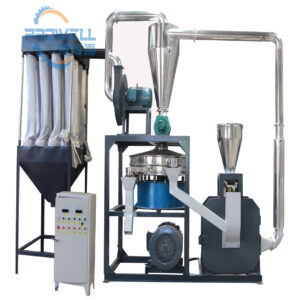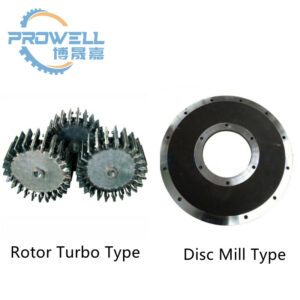 Rotor Turbo grinding is mainly used for hard PVC materials, Disc-type grinding of Soft PVC, PE, PS, PA, PC, PP, PMMA and other plastics.
PVC PE Plastic Flakes Milling Machine Tech Details:
| | | | |
| --- | --- | --- | --- |
| Model | PW Pulverizer-500 | PW Pulverizer-600 | PW Pulverizer-800 |
| Disc Diameter | 500mm | 600mm | 800mm |
| Speed | 3700RPM | 3500RPM | 3200RPM |
| Main Motor | 37KW | 55KW | 75KW |
| Capacity | 150-280kg/h | 200-550kg/h | 450-850kg/h |
| Powder Size | 15-80mesh | 15-120mesh | 15-120mesh |