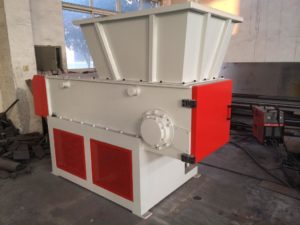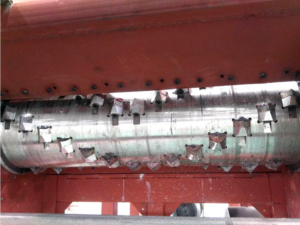 The Waste Plastic Recycling Single Shaft Shredder is suitable for recycling various large solid materials, plastic containers and plastic barrels, thick-walled PE/PPR pipes, plastic pallets, plastic films, etc.
Shredded particles can be as small as 20mm according to different needs. And we can provide various
feeding hoppers
according to customer needs.
The shredder has a standard serrated pusher plate, which is more convenient for crushing large solid bodies (head material, gate material) or pallets;
At the same time, The design of the rotor is flexible, so it can crush various materials and can be modified as needed. For example, the surface of the rotor is plated with cemented carbide, which can make it suitable for crushing corrosive materials. the rotor of the single-shaft
shredder
uses a square knife block with a concave surface. These knife blocks can easily shred heavy waste materials. So this design does not generate heat like a hammer crusher, and degrade the material, thereby improving the efficiency of shredding. When a corner of the knife block is worn, you can simply change the direction of the knife block and continue using it.
600
800
1000
1300
1500
Model
SS-600
SS-800

S

S-1000
SS-1300
SS-1500
Motor
22kw
37kw
45kw
75kw
110kw
Effective length of cutter shaft
600mm
800mm
1000mm
1300mm
1300mm
Number of moving knives
26pcs
46pcs
58pcs
75pcs
92pcs
Bearing
Japan
Hydraulic system
2.2kw
3kw
4kw
5.5kw
5.5kw Double cylinder
Screen aperture
Φ50mm
Shredding ability
200~500

kg/h

350~600

kg/h

500~800

kg/h

600~1000

kg/h

800~1300

kg/h

Dimensions
1950×1350×1900
2450×1650×1950
3200×1950×2200
3800×2200×2200
4600×2600×2500
weight
2700kg
3900kg
5000kg
6500kg
7500kg