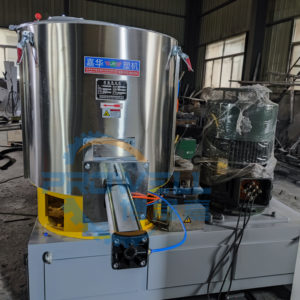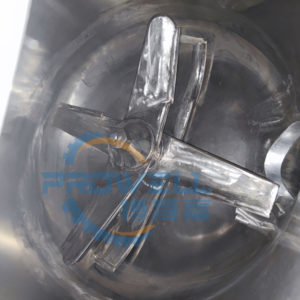 Features of PVC Ceiling Material Frequency Conversion High Speed Mixer
1. The PVC mixer is mainly used to mix the formula of PVC ceiling materials and the formula of PVC wall panels.
2. The main shaft seal of the high-speed mixer adopts special material seal and oil-resistant and high-temperature-resistant skeleton oil seal.
3. The lid of the mixer adopts double sealing.
4. The high-speed mixer has multiple heating methods such as self-friction and electric heating.
5. The unloading method of the high speed mixing machine adopts two kinds of temperature automatic control and manual control.
6. The blades of the high-speed mixing machine are using integral stainless steel casting and refined through dynamic and static balance.
7. The electrical control of the mixing unit adopts control elements.
| | | | | | | | |
| --- | --- | --- | --- | --- | --- | --- | --- |
| Model | Volume | Effective volume | Motor | Spindle speed | Dimensions | Heating method | Uploading Method |
| SHR-5A | 5 | 3 | 1.1 | 1440 | 620*300*730 | Electricity/self-friction | Manual |
| SHR-10A | 10 | 7 | 3 | 1440 | 1200*300*830 | Electricity/self-friction | Manual |
| SHR-25A | 25 | 20 | 5.5 | 1440 | 1200*350*850 | Electricity/self-friction | Manual |
| SHR-50A | 50 | 35 | 7/11 | 750/1500 | 2100*700*1100 | Electricity/self-friction | Manual |
| SHR-100A | 100 | 75 | 14/22 | 650/1300 | 2100*800*1510 | Electricity/self-friction | Auto |
| SHR-200A | 200 | 150 | 30/42 | 475/950 | 2400*850*1580 | Electricity/self-friction | Auto |
| SHR-300A | 300 | 225 | 40/55 | 475/950 | 2800*1080*1680 | Electricity/self-friction | Auto |
| SHR-500A | 500 | 375 | 47/67 | 430/860 | 3060*1150*1880 | Electricity/self-friction | Auto |
| SHR-800A | 800 | 600 | 83/110 | 370/740 | 3385*1380*2750 | Electricity/self-friction | Auto |
| SHR-1000A | 1000 | 750 | 90/132 | 325/650 | 3460*1140*2900 | Electricity/self-friction | Auto |
| SHR-1300A | 1300 | 975 | 250 | 250/500 | 3600*1420*3100 | Electricity/self-friction | Auto |