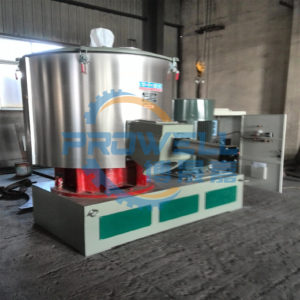 The Lithium Battery Powder Mixer is mainly used for the pre-processing and mixing of lithium battery powder raw materials so that the additives in the hot mixed material continue to penetrate into the lithium battery powder and remove the residual gas in the hot mixed material and It also has the characteristics of uniform mixing to meet the requirements of lithium battery powder production process,
This machine has the advantages of stable, reliable, sturdy and durable, convenient operation, compact structure, etc. It has a wide range of uses in the lithium battery industry.
1. All parts in contact with the material (including the machine cover and the discharge opening) are coated with tungsten carbide (WC) inner wall and the discharge opening are coated with tungsten carbide (WC) or Teflon.
2. The unloading of the silo is unobstructed and there is no accumulation tank wall and discharge opening in the mixing tank.
3. In view of the characteristics of lithium battery powder, the spindle adopts special sealing method.
4. Equipped with side stirring device to ensure the uniformity of material mixing.
5. The key parts of the tank are equipped with temperature measuring devices and the interlayer of the tank is equipped with a water cooling circulation system.
Machine Details
| | | | | | | | |
| --- | --- | --- | --- | --- | --- | --- | --- |
| Model | Volume | Effective volume | Motor | Spindle speed | Dimensions | Heating method | Uploading Method |
| SHL-5A | 5 | 3 | 1.1 | 1440 | 620*300*730 | Electricity/self-friction | Manual |
| SHL-10A | 10 | 7 | 3 | 1440 | 1200*300*830 | Electricity/self-friction | Manual |
| SHL-25A | 25 | 20 | 5.5 | 1440 | 1200*350*850 | Electricity/self-friction | Manual |
| SHL-50A | 50 | 35 | 7/11 | 750/1500 | 2100*700*1100 | Electricity/self-friction | Manual |
| SHL-100A | 100 | 75 | 14/22 | 650/1300 | 2100*800*1510 | Electricity/self-friction | Auto |
| SHL-200A | 200 | 150 | 30/42 | 475/950 | 2400*850*1580 | Electricity/self-friction | Auto |
| SHL-300A | 300 | 225 | 40/55 | 475/950 | 2800*1080*1680 | Electricity/self-friction | Auto |
| SHL-500A | 500 | 375 | 47/67 | 430/860 | 3060*1150*1880 | Electricity/self-friction | Auto |
| SHL-800A | 800 | 600 | 83/110 | 370/740 | 3385*1380*2750 | Electricity/self-friction | Auto |
| SHL-1000A | 1000 | 750 | 90/132 | 325/650 | 3460*1140*2900 | Electricity/self-friction | Auto |
| SHL-1300A | 1300 | 975 | 250 | 250/500 | 3600*1420*3100 | Electricity/self-friction | Auto |