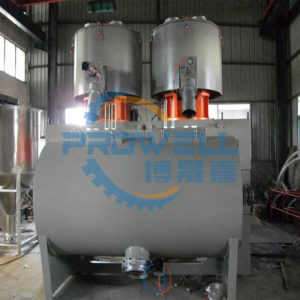 PVC Mixer SHR-800*2/4000
Horizontal High Speed Mixer
Unit adopts a concave-convex double-channel sealing method between the container cover and the container. Compared with the traditional single-channel flat seal, the sealing effect is better.
The hot mixer blade adopts three blades or disc blades,According to customer's different products. The blades are stainless steel castings. The blades are dynamically balanced in order to maintain the stability of operation. The bottom propeller is treated effectively by special methods. To prevent the leakage of the mixer, the main shaft sleeve of the mixer is quenched and tempered. Which greatly improves the service life and effectively prevents the leakage of materials.
The cold mixer is equipped with a cooling interlayer in the container wall and adopts a spiral water channel. So that the cooling water flows according to the set route, cooling is even.  The cooling speed is fast, and the cooling effect is good.
The container is provided with an inverted truncated cone-shaped inner cooling jacket, which increases the cooling area and speeds up the cooling speed.
The transmission method adopted by the cold mixer is that the reducer and the motor are connected by a belt pulley, which overcomes all the disadvantages caused by the use of the reducer and makes its operation more stable.
The container cover of the cooling mixer is equipped with an exhaust device, which fully removes the gas generated by the hot mixing during the cooling process, and improves the quality of the product.
PVC Mixer Horizontal High Speed Mixer Main Tech
| | | | | | |
| --- | --- | --- | --- | --- | --- |
| Model | SRL-W300/1000 | SRL-W500/1500 | SRL-W800/2500 | SRL-W1000/3000 | SRL-W800*2/4000 |
| Total Volume | 300/1000 | 500/1500 | 800/2500 | 1000/3000 | 800*2/4000 |
| Effective Volume | 225/700 | 330/1000 | 600/1500 | 700/2100 | 1200/2700 |
| Stirring Paddle Speed | 475/950/80 | 430/860/70 | 370/740/60 | 300/600/50 | 350/700/65 |
| Mixing Time | 8-12 | 8-12 | 8-12 | 8-12 | 8-12 |
| Motor Power | 40/55/7.5 | 55/75/15 | 83/110/22 | 110/160/30 | 83/110*2/30 |
| Weight | 3300 | 4200 | 5500 | 6500 | 8000 |
| Output | 495 | 825 | 1320 | 1650 | 2640 |