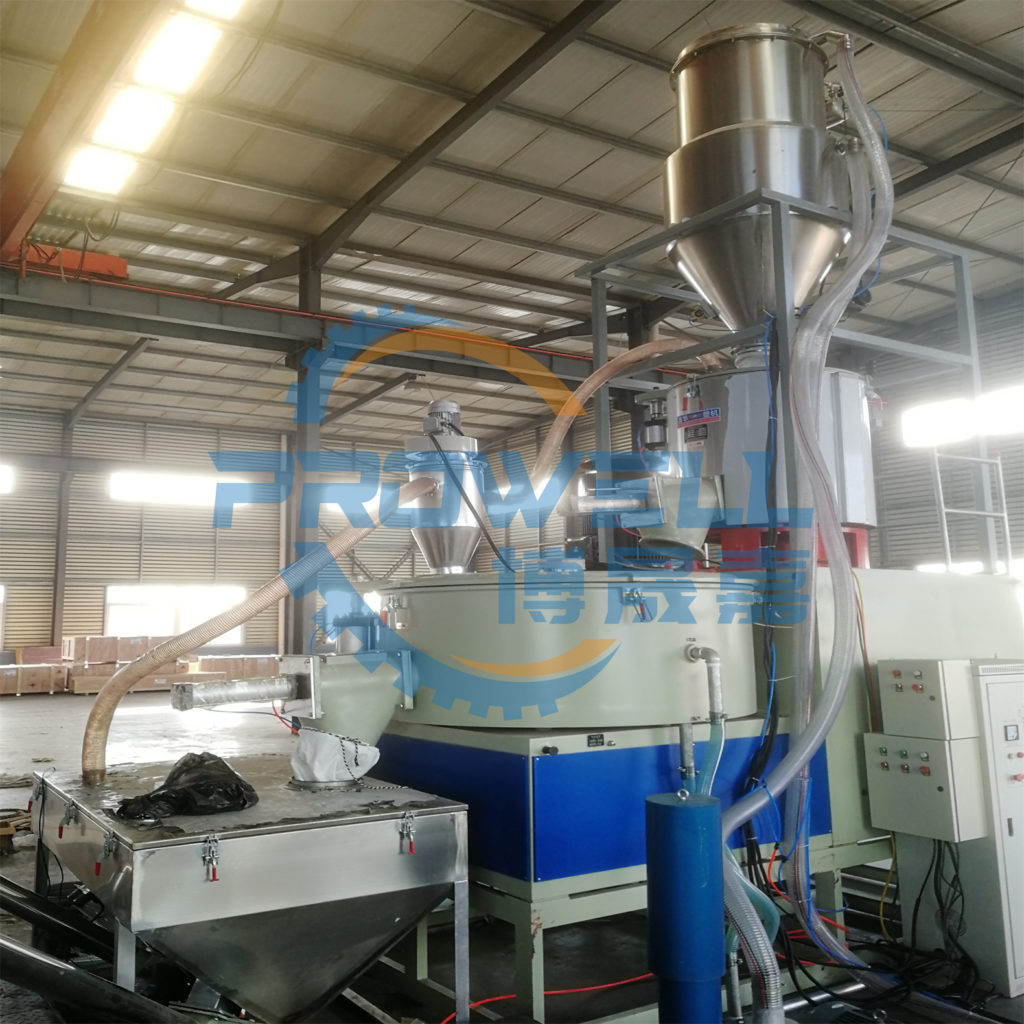 PVC Plastic Powder High Speed Mixing Machine consists of seven parts: frame, transmission, pot body, lifting, discharge port and electric control box. The whole machine adopts a closed structure, which is reasonable and beautiful.
The pot body is made of stainless steel, the inner surface is extremely smooth and hard, and it has the characteristics of wear resistance, corrosion resistance, and non-sticky materials. The pot body of the mixer has a heating jacket and a resistance heating ring. The temperature is transmitted to the pot body through the high ignition point heat conduction oil in the heating jacket, so that the pot body is evenly heated, and the temperature of the material in the pot can be controlled by adjusting the temperature. There is an asbestos insulation layer outside the jacket.
The lid of this series of mixers is cast from aluminum alloy. The inner surface is polished by fine turning. After it is lifted from the cylinder, it can rotate in the vertical direction and rotate horizontally clockwise (rotation at 70°C). The cover has holes for adding resin, plasticizer, stabilizer, and vents. Users can According to self-arrangement. Do not use excessive force when turning the lid to prevent damage to the pot wall. In order to prevent personal accidents caused by the failure of the lid of the pot and the rotation of the stirring blade, a motor protection is specially set.
| | | | | | |
| --- | --- | --- | --- | --- | --- |
| Model | SRL-Z100/200 | SRL-Z200/500 | SRL-Z300/600 | SRL-Z500/1000 | SRL-Z800/1600 |
| Total volume (L) | 100/200 | 200/500 | 300/600 | 500/1000 | 800/1600 |
| Effective Volume (L) | 65/130 | 150/320 | 200/360 | 375/650 | 600/1024 |
| Rotating Speed (RPM) | 650/1300-180 | 475/950-87 | 475/950-87 | 430/860-60 | 357/714-50 |
| Mixing time (Min.) | 8-10 | 8-10 | 8-12 | 8-10 | 8-12 |
| Motor power (KW) | 14/22-7.5 | 30/42/11 | 40/55/11 | 55/75/15 | 83/110/22 |
| Overall dimension (mm) | 2500*2000*2200 | 4580*2240*2470 | 4800*2640*2480 | 5600*3000*3100 | 6230*4230*4480 |
| Weight (kg) | 2500 | 3600 | 4500 | 5800 | 8300 |