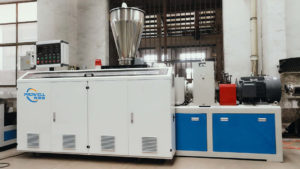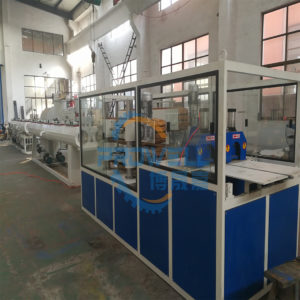 PVC Conduit Pipe Extrusion Machine mainly includes: powder feeder, conical twin-screw extruder, mold (one output two), vacuum sizing box, tractor, cutting machine and stacking rack .
The PVC pipes produced by this production line are generally used for water supply, drainage pipes and wire threading pipes.
The Extrusion Line main machine SJZ-55/110 or SJZ-65/132 conical twin-screw extruder is equipped with a double-pipe double-slot single-control stainless steel cooling setting machine, which avoids the waste of adjusting one pipe and affecting the production of the other pipe during production. , The automatic single control double traction double cutting machine integrates the front double shaping technology into one, which makes the operation more flexible and allows you to appreciate the benefits brought by the separate single control, double pipe and double grooves.
The diameter of the PVC Two Cavity Pipe making line pipe ranges from Φ20-Φ63/Φ10-Φ40mm, which can make full use of the extrusion capacity of the extruder, and even produce small-diameter wire groove pipes can achieve extremely high output.
Control system: German Siemens PLC control system can be selected for intelligent control. Common control adopts Siemens electrical parts and Japanese Omron temperature control meter, which is simple and easy to operate.
PVC Pipe Extrusion Making Line Tech Details
Details:
Model
PVC Two Cavity Pipe Extrusion Machine
PVC Four Cavity Pipe Extrusion Machine
Extruder
SJSZ55/110
SJSZ65/132
Diameter Range
Ф16mm-Ф40mm
Ф16mm-Ф32mm
Vacuum Tank Length
4m
4m
Haul Off Machine Speed
1.2-12 m/min
1.2-12 m/min
Total Power
67kw
92kw
Total Length
17m
18m