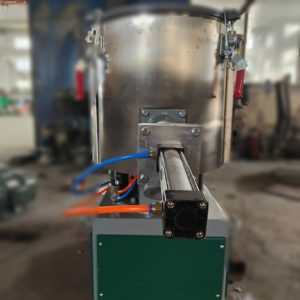 Medical PVC Granulation Heat High Speed Mixer
1. The pot body of the medical PVC high-speed mixer: the part in contact with the material must be made of SUS304 stainless steel, because PVC will produce chlorine gas at high temperatures, which is corrosive to the pot body, and the use of inferior plates will seriously affect the life.
2. The blades of the medical PVC high-speed mixer: Same as the requirements of the pot body, it is made of SUS304 stainless steel for one-time casting.
3. The discharge port of the medical PVC high-speed mixer adopts a spherical sealing structure, which has a good sealing effect and does not leak powder.
4. Pay attention to the oil seal and gland of the main shaft of the medical
PVC  mixer
. The part of the oil seal gland is easier to overflow the grease that lubricates the bearing. When this happens, the whole pot must be scrapped because it is mixed with grease. Black spots will appear after granulation of the material, which will affect the quality of medical PVC granules.
5. Motors for medical PVC
high-speed mixers
are generally one grade larger than standard models.
Because more liquid additives are added when the materials are mixed, when the temperature of the materials rises to about 125 degrees, the mixing current will increase by about 25%.
PVC High Speed Mixer Tech Details 
Model
SRL-Z100/200
SRL-Z200/500
SRL-Z300/600
SRL-Z500/1000
SRL-Z800/1600
Total volume(L)
100/200
200/500
300/600
500/1000
800/1600
Effective volume
65/130
150/320
225/380
375/650
600/1050
Rotating speed of stirring paddle(rpm)
650/1300/80
475/950/80
475/950/80
430/860/60
370/740/50
Heating and cooling method
Electric Heating/self-friction/water cooling
Dimensions
1950×1600×1800
4580×2240×2470
4800×2640×2480
4600×3000×4050
5170×3200×4480
(L×W×H)
Weight(Kg)
2200
3400
3600
4800
6200